Persepolis LA / Xenakis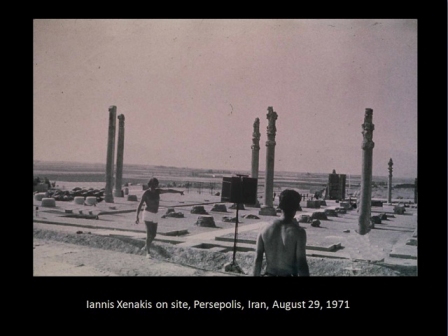 PRESS RELEASE:
LOS ANGELES, SEPTEMBER 15, 2010-- A dramatic multi-media event based on the 1971 sound-and-light spectacle by widely influential composer Iannis Xenakis will take place near the heart of Los Angeles at dusk. At State Historic Park on Saturday, November 6, 2010, 6PM, Persepolis LA, will become the first "recreation" ever of Xenakis' legendary Polytope de Persepolis, originally staged in the skeletal remains of ancient ruins in the remote Persian desert. It will launch several months of events in Southern California dedicated to the Greek musician and architect, who lived in France until his death in 2001.
Conceived as the opening event of the controversial 1971 Shiraz Festival in Iran, Polytope de Persepolis's electronic score has become a classic within contemporary music. It comprised some 48 loudspeakers and included such arresting elements as lasers beamed into the night sky, searchlight projections onto the crumbling palace, bonfires, and a procession of children bearing fire-lit torches.
Adapted and re-staged in Los Angeles by Daniel Teige, German sound artist and Xenakis electronic music expert, Persepolis LA will--as the original did--involve six listening stations with eight speakers each and encompass over 70,000 square feet of performance area within the 32-acre park.
At the heart of the 60-minute open-air spectacle will be the eight-track tape-music composition, recently restored. Based on historical documents from the Xenakis Archives and created uniquely for this Los Angeles performance, this recreation will involve computer-generated visual choreography complete with laser beams, searchlights, and several bonfires by Embrace the Void Design. As was the case with its World Premiere at the Temple of Darius, the event will open with Xenakis' first electronic work, Diamorphoses (1957), as a "geological prelude."
"We are thrilled that we could organize this historic reenactment," remarks critic Carey Lovelace, co-curator of the exhibit Iannis Xenakis: Composer, Architect, Visionary running co-currently at the Los Angeles Museum of Contemporary Art, which is co-producing. Concurs co-curator Sharon Kanach, a noted new music scholar and director of the Xenakis Project of the Americas: "The revolutionary 'polytopes,' Xenakis' site-specific multi-media works, are an unparalleled fusion of architecture, music, and light. They pioneer what one might call 'musical land art.' Nearly 40 years later, this is the first time one will be recreated anywhere in the world."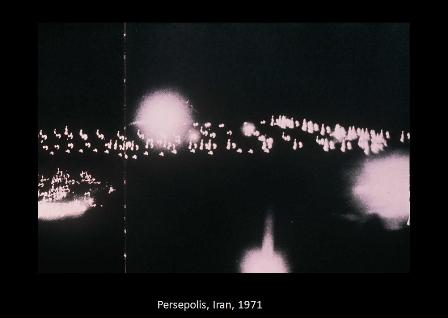 Xenakis, born in 1922, was known for radical experiments, often involving mathematics or architectural paradigms, which helped change the complexion of contemporary music. As was true with the original Polytope de Persepolis, the audience will be invited to walk around the grassy expanse of the State Historic Park while the piece is in progress to experience sound and visuals "spatially," from different vantage points. (No seating will be provided.)
Iannis Xenakis: Composer, Architect, Visionary originated Winter, 2010, at The Drawing Center in New York City. It was on view at the Canadian Centre for Architecture in Montreal from June 17 – October 17, 2010, and will run from November 7, 2010 - February 4, 2011, at MoCA's Pacific Design Center. It will travel to several venues in Europe in 2011, where tributes to Xenakis will commemorate the tenth anniversary of his death.
Admission is free. Note: Persepolis LA will involve high volume levels. (Earplugs will be provided for children…and others.)
"Persepolis is neither a theatrical spectacle, nor a ballet, nor a Happening. It is visual symbolism, parallel to and dominated by sound. The sound --the music-- must absolutely prevail." Iannis Xenakis,1971
---
STAFF FOR PERSEPOLIS LA
DANIEL TEIGE (ARTISTIC DIRECTOR)
Daniel Teige studied musicology and computer music at the Electronic Music Studio Berlin. Continuing studies with Jonathan Bepler, Robin Minard, Gerhard Eckel, Orm Finnendahl and Gottfried Michael Koenig. Currently he works as a freelance audio designer and computer music composer. He is a specialist in the Polytopes of Iannis Xenakis. His interpretations and research results of these works were presented during multiple festivals and venues around the world. His remixed stereo and multichannel versions of Iannis Xenakis Kraanerg, Persepolis and Polytope de Cluny were published by Mode Records New York and Edition RZ Berlin. As an audio designer he worked with the American composer Jonathan Bepler on the music of Matthey Barneys Cremaster3. In 2009 he was invited as a composer in residence at the Curtis R. Priem experimental media and performing arts center (EMPAC) at the Rensselaer Polytechnic Institue in Troy, New York. As an audio designer for the Swiss company Idee und Klang he worked on Multimedia Sound Installations amongst others for the German Telekom, and the Expo Shanghai 2010.
SHARON KANACH (CREATIVE CONSULTANT)
Sharon Kanach, the exhibition's co-curator, is a Paris-based New Music specialist, who has lived in France for the past thirty years. She originally went to Paris to study under Nadia Boulanger. However, her path crossed that of Iannis Xenakis (1922 – 2001); she subsequently worked with him for several decades until the end of his life, closely collaborating with him on his writings, several of which she has edited and translated into English, including Formalized Music and Arts/Sciences: Alloys. She also co-authored Xenakis' Musique del'Architecture, which was released in French and in English by Pendragon Press. Currently, she is co-editing (with Makis Solomos and Beniit Gibson) a nine volume collection of Xenakis' unpublished papers and writings. Performing Xenakis, has just been published as the second volume of the Xenakis Series by Pendragon Press for which she is the editor. Kanach is the founder and president of the Xenakis Project of the Americas of the Brook Center at CUNY, as well as the Vice-President of Centre Iannis Xenakis in France.

EMBRACE THE VOID DESIGN (LIGHTNING DESIGN)
Embrace the Void Design and Electrics, LLC was founded by Kyle Ruebsamen, Michael Fullman and John A. Garofalo. Constantly striving to push the limits of technology and innovation, the members of Embrace the Void use their passions and expertise to create live, interactive designs that defy the limitations of traditional multimedia installations. For this project, the collaboration between Kyle Ruebsamen and Michael Fullman creates the unique lighting experience demanded by Iannis Xenakis in his polytopes. Both Kyle and Michael are graduates of the Loyola Marymount University's Department of Theatre Arts and Dance where they concentrated in Lighting Design for Theatre and were both awarded the degree of Bachelor of Arts. Though they continue to individually design theatre, dance, and live entertainment events, they are excited to once again combine their talents to tackle such a new and challenging project as this one.
CAREY LOVELACE (CREATIVE CONSULTANT)
As an art journalist and curator Carey Lovelace has written for over two decades for a range of publications including Artforum, Art in America, Flash Art, Artnews, Harper's, The International Herald Tribune, and The New York Times. She is co-president emeritus of the U.S. chapter of the International Association of Art Critics (AICA/USA), whose 435 members form the nation's leading association of cultural writers. Iannis Xenakis: Composer, Architect, Visionary, which she co-curated with Sharon Kanach, opened at the Drawing Center in New York, in January 2010 and traveled to the Canadian Centre for Architecture in Montreal.

With AICA/USA, she organized the historic May 2005 National Critics Conference in Los Angeles. She co-hosted The Yay/Nay Show, an arts-and-culture program on WPS1, for which she and Linda Yablonsky won a 2006 AICA Award for Best Presentation of Art in a Broadcast Medium. She has curated performance art events at the Bronx Museum, Movement Research, and La MaMa E.T.C. and has appeared on or moderated panels at P.S.1-MoMA, the International Critics Conference, the Cairo Biennale, the College Art Association, the Women's Caucus for Art, the National Critics Conference, and the American University Museum; she has been a featured guest on BBC3's Nightwaves. She was a 2010 Marilyn and Andrew Heiskell Visiting Critic at The American Academy in Rome. She is also an award-winning playwright, with productions at the Edinburgh Fringe Festival, 59E59 Theaters, and Ensemble Studio Theatre.