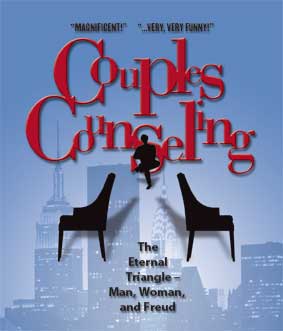 Couples Counseling received its world premiere in Los Angeles at the Roy and Edna Disney/CalArts Theater (REDCAT) on June 8, 2004, produced by the School of Theater at CalArts. In 2008, it was presented at the Manhattan Repertory Theatre. In the summer of 2009, it was presented at the Edinburgh Festival Fringe.
COUPLES COUNSELING

A series of short, funny, stylized vignettes charting the relationship between a therapist and his two patients going through a marital crisis and a peculiar love triangle that emerges and is eventually resolved. It is also an exploration of the "music" of communication and how much is said by not saying--characters speak in sentences that are broken, incomplete, finishing each others' thoughts, sometimes using only single word, the rhythm creating a musical tapestry.

HE - late 20s through late 40s
SHE - late 20s through late 40s
DR. BOB MELMUD - older than they
Scene I
A couple in the middle of crisis comes in to Dr. Bob Melmud for help. Racked by a coughing fit he tries to conceal, he doesn't say a thing--but the problem is solved nonetheless.

Scene II: The Relapse
After a successful therapy session that has revived their sex life, a couple comes back to congratulate the therapist--but also, now that they are cured, to terminate therapy. The instigator of the termination is the female (SHE); when SHE doesn't get her way, the she has a brief coughing fit; an attraction ensues between SHE and Dr. Bob, causing the man (HE) to become upset. An argument arises, causing them to become just as alienated as they were at the beginning--therapy will continue. But the piece consists as much the style as the content. Characters rarely speak in complete sentences, instead finishing each others' thoughts for each other, sometimes only using pronouns, creating a kind of musical tapestry.
Scene III: Coughing
A brief interlude on the meaning of coughing.

Scene IV: The Dream
After a chance encounter, Dr. Bob and SHE have a confrontation and a tryst: it turns out to be HE's bad dream.

Scene V: It Gets Dark Early Now
It turns out that SHE really did leave; HE deals with the grief of his loss and Dr. Bob deals with his guilt.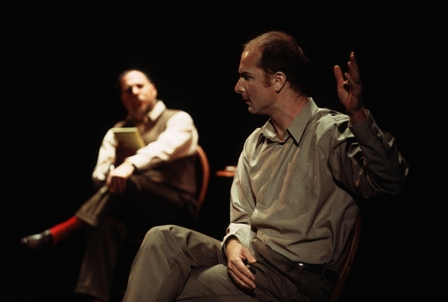 1st Page of COUPLES COUNSELING
(A man and woman are seated in chairs on a bare stage, about eight feet apart, facing downstage, outward diagonally. A third chair, between them, slightly upstage, faces the audience.)
(very fast, one after another)
SHE
You--
HE
(sarcastically) Yeah!
SHE
Look...
HE
I--
SHE
You--
HE
Ha!

(Dr. Bob Melmud enters. He stands between them briefly, walks off, as if he's forgotten something.) SHE Now-- HE Now wait! SHE No you-- HE You-- SHE You wait! HE Fine! SHE Ha!

(Dr. Bob Melmud reenters, sits in chair. He tries to listen. He writes in notepad)